Quarry Landing has all the space you need for daily adventures.
The quiet streets of Quarry Landing are located near the winding North Saskatchewan River and above one of Edmonton's signature golf courses.
Our Community
Quarry Landing, a community you can truly call home.
Living in a spacious single family home in Quarry Landing means setting up a tent in the living room, or jumping rope in the hallway; Picking up fresh flowers from nearby greenhouses, then hosting a dinner party in your backyard. Whether you are looking for a new home for your new family, or the forever home you have been dreaming of, Quarry Landing has the space you need for your next adventure.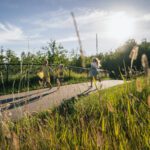 Our Homes
Single-family homes in North Edmonton.
Quarry Landing is a unique community as it offers all single-family homes, meaning less density and more space! The home styles suit a variety of preferences and are all nestled in an unique parcel of land in North Edmonton.
Lot Map
Choose your lot and start planning your adventures in Quarry Landing.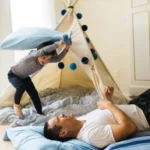 Our Builders
Discover single-family, executive and estate homes in Quarry Landing. Our exclusive builders are ready to build your perfect home.
Go To Builders